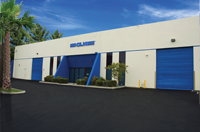 GLM Products, Inc.
705 Los Angeles Avenue
Monrovia, CA 91016
USA
(626) 357-0077 Phone
(626) 357-0600 Fax
E-mail:
info@glmmarine.com
For over 36 years now, GLM has committed itself to prod-ucing high quality and cost effective aftermarket marine products. From superior quality materials to the most advanced computerized machinery, GLM has made a commitment to the marine industry and its consumers to deliver the most outstanding, reliable and compatible products to meet the demands of consumers.
All GLM products are brand new from factory and completely compatible and interchangeable with the OEM. In addition, GLM in-house design and engineering actually enables improvement on the original OEM designs. GLM engineering and manufacturing capabilities produce more reliable replacement parts for our customers. Advanced technology, superior materials, and compatibility constantly improve and GLM strives to include these advances in all of its products.
GLM offers an exciting line of unique, exceptional, and everyday repair and maintenance products. Our in-house ability to design and engineering has allowed us to continuously expand our line of factory new products over the years. In the year 2022 alone, we offered over a dozen new products just to our Manifold, Yamaha & Suzuki lines!
Consider the additions to the GLM line over the past several years. No other aftermarket manufacturer can compare with the variety of gears, shafts, carriers and cases that GLM has developed and re-designed. At GLM, we continually strive to offer and deliver to our customers improved factory new alternatives to the OEM. When you invest in buying a GLM product, you can be assured that you are receiving the highest quality aftermarket marine products available. GLM is often the only source for those that seek exclusive products.
With such numerous new products introduced annually, GLM maintains and improves its process to adapt to the demanding industry to deliver the most complete aftermarket marine line to our customers worldwide.